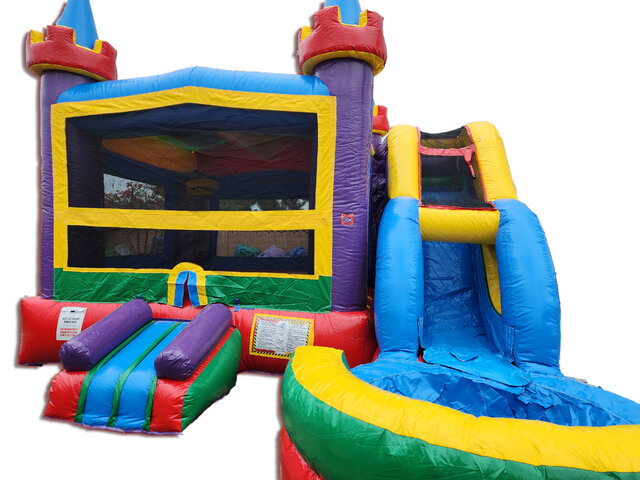 ROBLOX 6 in 1 Combo Water Slide
Actual Size: 18'L x 16'W x 14'H
Setup Area: 18'L x 16'W x 14'H
Outlets: 1
Age Group: 2-45




ThisWater Slide combo ride features six different inflatable activitiesIntroducing the Roblox Bounce House with Water Slide—an aquatic adventure that brings your favorite virtual world to life! Dive into the exciting realm of Roblox as you bounce, slide, and make a splash in this inflatable wonderland.
Step into a world of imagination as you enter the bounce house, adorned with vibrant Roblox graphics and characters. Channel your inner Roblox avatar and let your creativity soar as you bounce to new heights and engage in thrilling adventures with friends.
But the excitement doesn't end there! Prepare to take on the ultimate watery escapade as you climb the inflatable ladder and get ready to slide down the refreshing water slide. Feel the rush of exhilaration as you zoom through twists and turns, emulating the excitement of Roblox water-themed adventures. Splash into the cool pool at the bottom, immersing yourself in a world of refreshing fun.
Safety is paramount, and parents can have peace of mind knowing that this Roblox-themed bounce house with water slide is designed with their children's well-being in mind. Constructed from durable, high-quality materials, it can withstand active play while providing a safe and secure environment. Mesh netting ensures proper ventilation and clear visibility, allowing for supervision and enjoyment.
Whether you're hosting a Roblox-themed party, a summer gathering, or simply seeking an extraordinary playtime experience, the Roblox Bounce House with Water Slide will transport you to a virtual paradise right in your own backyard.
Create unforgettable memories as you embark on an exciting aquatic journey through the vibrant Roblox universe. Let your imagination run wild as you bounce, slide, and make a splash in this perfect fusion of virtual magic and real-life adventure. Get ready to experience the thrill and wonder of the Roblox Bounce House with Water Slide—a truly epic water-filled escapade!